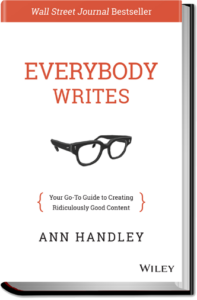 "Everybody Writes" by Ann Handley is a fantastic book. This book absolutely exceeded my expectations. I had thought this would be a good little book about writing, directed to the common person that doesn't have a literary degree about how to write better. Her book is so much more. Follow me as I break it down.
Ann begins the book with writing rules. That's OK. She has a LOT of rules! Interspersed with all of her rules are stories, anecdotes, comments from other authors, and even talks about breaking the rules. And she presents all of these rules in an interesting light. So much so, that this book on writing and grammar is interesting and intriguing. And it gets better! She moves from simply talking about rules for writing, rules for grammar to addressing content. Content publishing: where to publish, tools for publishing and publishing using social media are all covered. This book is a valuable stand-alone guide to writing and publishing online.
Part One: "Writing Rules: How to Write Better (and How to Hate Writing Less)
In part one, Ann talks about the act of writing. She explains that all of us already write. Even if it is just a Facebook status update or an email, we are all still writing.
And since part one is about how to write better, she digs deep into this topic. She talks about forming the habit of writing, and how if you want to get better at writing, you have to write every day. She addresses the differences between writing in the real world, vs. the rules you had for writing in High School. Ann delves into thinking and writing, and organization. She continues to show how to think and present the words and ideas you want to convey as basically as possible, and clearly as possible – with empathy and ability to truly connect with your audience. There are 28 chapters in Part One dedicated to the concepts of writing. Ann sums up good writing with "Good writing is more about thinking, rewriting, and keeping your focus relentlessly on the reader than it is about knowing your effect from your elbow (and your effect, too)."
Part Two: "Writing Rules: Grammar and Usage"
I'll admit, I do NOT know all the grammar rules. I stumble along, and what Ann has presented here about Grammar was useful. Some things are obvious, like using the right synonym, (their vs. there, for example), but others are less obvious. In part two, Ann digs into the grammar rules.
An important concept covered by Ann is using real words. Don't use the marketing buzzwords and jargon, but words that are used by real people, in a real way of speaking. Ann's example of bad marketing speak is, "Yet here we are, decades later, and our writing and content are still littered with revolutionary, value-added, impactful, cutting-edge, best-of-breed, go-to ideated words designed to leverage and incentivize and synergize the current paradigm."
She further shows examples of made up words you shouldn't use, such as listicle, awesomesauce, chillaxin'. And stop adding -ize, -ism and -istic to words.
As this is a book about writing and grammar, the points of how verbs and adverbs are used, and I speculate that although Ann wrote a short chapter on this, she could have written an entire book. However, the chapter covering verbs and adverbs is short and to the point.
Also in part two is a chapter on avoiding mistakes marketers make, followed up by a chapter with at least five grammar rules you can break. There are other additional chapters in the section, they are all worth reading. Entertaining AND informative. And some of it a bit humorous. If I count correctly, there are 12 chapters in part two – and every single one important.
Part Three: "Story Rules"
Part three is dedicated to the idea of story and storytelling. This part gets into the concepts of feelings, and introducing compelling stories. Ann shows plenty of examples here how different businesses have told a story, and how they did it well to attract attention and focus.
One of the things that Ann discusses is telling the story that is uniquely yours. As we are all different, would the description you use for your business fit just you, or hundreds of companies out there?
This part is pretty short at 4 chapters, but they are all relevant and needful. Every single chapter in this book has information that needs to be read, absorbed and used when writing a blog, or a simple press release.
Part Four: "Publishing Rules"
Part four starts with the actual rules for publishing. How to publish, what to publish, ethics about publishing. Next, "Brand Journalism" is addressed, but this appears to me to be awfully close to "Content Marketing". Either way, valid and valuable points to consider.
Ann brings up a point here that find very, very important. This is Chapter 46, and is titled, "Tell the Truth". This is a short chapter, but one that I think is exceedingly important. Read it, and realize that honesty and integrity matter. A lot.
A concept is brought up in chapter 47 called "Newsjacking", which is inserting yourself into a developing story. This has to be done well to be effective, but can bring a lot of attention where it would be unexpected. Clever!
There are a number of additional chapters in this section which are important, and if you get the book, you'll get the opportunity to read them. They are excellent. They include topics such as posting real news, seeking out opposing viewpoints, interview tips, fact checking, seeking out the best sources and hidden agendas.
Chapter 55 to 58 in Section Four I think are worth spending a bit of time on. This chapter is called, "Cite as You Write". Here Ann talks about proper citation, and giving credit to whom for which credit is due. And not only citing, but linking back to the author. This also ties into the next chapter, which is "Curate Ethically". Both of these are about insuring that you give credit, and you engage in fair use. In my opinion, very important. Chapter 57 is titled, "Seek Permission, Not Forgiveness", and is about getting permission before you step over that line. It is better to get permission now, then to face a copyright infringement later. And Ann ends this bit with Chapter 58 with information about understanding the basics of Copyright, Fair use and For Attribution. To do this, she brought in a member of her company named Kerry O'Shea Gorgone – an attorney, to provide a legal perspective.
Part Five: "13 Things Marketers Write"
Part five digs into marketing and social media. Blog posts, Podcasts, Facebook posts, Twitter, LinkedIn and other marketing content is addressed here. Want to know about the best way to write on Twitter? How about automated Twitter posting? If so, you'll like Chapter 61.
Chapter 62 digs deep into hashtags and pretty much ties back into Twitter again. But with the focus on hashtags, and the great related stories, the chapter is relevant, detailed and informative – and still longer than some of the other chapters.
Chapters 65 and 66 cover writing for LinkedIn – both of these chapters were informative for me. I'm familiar with LinkedIn, but the information provided in these two chapters alerted me to the fact that I need to improve the quality of my LinkedIn profile, and consider how I might best leverage this platform from a writing perspective.
Chapter 67 has particular relevance for me. I consider email important, both email correspondence, and effective email subscription lists. Ann does a great deep dive regarding this topic and again packs a lot into every single page.
Chapters 70 and 71 cover writing a great Home Page, and a great About Us page. Important, and excellent information to improve. I've addressed some issues I had, and will be doing more.
As I am blogging, and doing so on a variety of topics, chapter 73 was a good read. Chapter 73 is titled, "Writing Better Blog Posts", and again, I learned. I'll also continue to learn, and this chapter will be read again to learn, make notes, and insure that the blog posts I release are the best that I can do.
Part Five also covers Facebook, Landing Pages, Infographics and Annual Reports.
The last part is Part Six, which covers "Content Tools". The section covers Research and Knowledge Management Tools, Writing Tools, Productivity Tools, Editing Tools, Style Guides, Voice to Text tools, Blog Idea Generators, Image Sources.
Summary
In summary, "Everybody Writes" is a book that if read and absorbed, will change the way you look at writing. This book is full of densely packed information, tons of footnotes and references. And all the while, Ann writes like she is just a friend giving you great advice.
Thank you Ann Handley for such a great book, and the incredible number of hours it must have taken you to write this.
Borrow this book from a friend, the library or buy it if you must.
This book is well worth the time I spent reading it, and it is well worth the purchase price.
I will be re-reading this book when I have time, so I can improve my writing across all of my platforms.
This review of "Everybody Writes" was written by John Chapman.